Using ICFs for Commercial Buildings: Building Green and Sustainable for the Future
TF Forming Systems Vertical ICF, ThermoForm, is a system unparalleled by traditional building methods.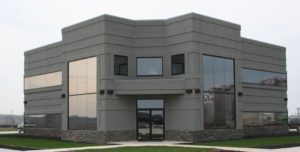 Vertical ICF vs. Traditional Building Methods
Vertical ICFs offer efficient assembly for one of the best known methods of commercial construction in the building industry.  An ICF provides a high R-value for extreme energy efficiency while also providing the most disaster resistant and sustainable building possible.  ICFs are more cost effective than traditional methods, such as concrete block, tilt-up, and steel, while also offering eco-efficient products.
It has been asked: "Why aren't most commercial projects going with Insulated Concrete Forms if the benefits are recognized as a cost decrease?"  The answer is simple, CHANGE.  Those changes are happening right now in architectural, engineering, and general contracting world.  The professional building industry has begun offering ICF as an alternative for some of the largest multi-family, hotels, schools, government, and industrial buildings in the nation.